Office meeting room to rent in Saffron Walden
Meeting Room for hire - just £25 a day (discounts for bookings of 5 days or more) including tea, coffee, internet and projection screen.
Option of Car Parking space for additional £10 a day.
For hourly, daily or weekly rental of the meeting room, please contact Henry Rowe on 07966 395795 or use the enquiry button below.

The meeting room accommodates 8 people in a boardroom style and includes tea, coffee, internet and projection screen (user to bring their own projector).
Located in Rowe House, Emson Close, Saffron Walden, Essex, the meeting room is in the centre of the town which includes Costa Coffee (2 minute walk), Starbucks and a huge choice of independent coffee shops, restaurants and public houses.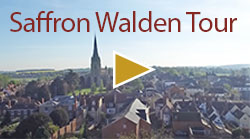 Take a tour around Saffron Walden using the video link above.
ROWE HOUSE SERVICES
Rowe House is a large office and retail block in the centre of Saffron Walden, Essex. Previously occupied by one office tenant, the office has now been divided into individual offices and suites of varying sizes. Because of the location of the building, and popularity of town, the offices are normally all let. If you would like to be considered should one become available, please contact Henry Rowe below.
Meeting room for hire
Well equipped meeting room accommodates upto 8 people in a boardroom arrangement. Tea and coffee facilities, internet and projection screen are included in the cost. Just £25.00 per day (discounts for bookings of 5 days or more) with the option of a car parking space for £10 per day - please contact Henry Rowe using the link below for prices and availability.
Meeting room enquiry
Offices – Available
Rowe House has been divided into individual offices and office suites of varying sizes. There are currently offices available, please contact Henry Rowe using the link below.
Office enquiry
Car parking spaces - FULL
The car parking attached to Rowe House is let to individuals on a per space basis. Occasionally a car parking space become available and is offered to our waiting list of possible tenants. If you would like to add your details to the list please contact Henry Rowe using the link below.
Car parking enquiry
Recent testimonials
Excellent venue in the heart of Saffron Walden. Perfect for small meeting. Lovely office and use of kitchen facilities. The landlord is very accommodating and helpful. Would definitely recommend making use of these premises. RJ

I had occasion to use the meeting room in Rowe House. It is comfortable, bright and well lit. Many useful extras were available, e.g a white board, flip chart, marker pens, and an excellent coffee making machine. It is also very reasonably priced. AR

One word-SUPERB. Just SUPERB!! LP

We received a warm welcome. Access is good, being close to the M11 and local parking is plentiful. The meeting room is very reasonably priced, well-equipped and would be suitable for meetings for up to 8 people. It is also a very light, clean and attractive room and so would look good on Zoom calls! Facilities in the building (kitchen, toilets etc) are good and again very clean. An excellent professional setting and we would certainly use again. JB

Excellent facility. The meeting room had everything we needed and more. It was comfortable and very clean. Building was quiet. Toilets facilities were immaculate. I would recommend to anyone looking for a meeting room or quiet space to work. NB

Rowe house facilities are very good, the office building hosts many other small businesses, ran by very kind people. It has been mostly a quiet work place for 3 days we used the facility. Facilities are very good with comfortable chairs, power and USB outlets, printer, a private kitchen with tea and coffee available. Owners are very kind, take care of your needs and check regularly in case anything is needed. Location is fantastic for grabbing lunch or morning coffee. On Tuesday Saffron Walden market is open and worth a quick visit during lunch time. OM

Super facility in Saffron Walden. Great meeting room, extremely clean and well organised. Henry made everything very easy to arrange and the experience has been so good that I have now taken on another room on a more permanent basis. Perfect for the "new normal" of working from home - but without all the interruptions of home! HW

Great facility in the centre of Saffron Walden. Excellent meeting room space with lots of added extras such as tea, coffee, WiFi, printer. Bright space with a window. Very clean and tidy, highly recommend. RL

A good range of office space in the heart of Saffron Walden. Well run, with a team that is happy to help and get you set up. ED

Great, affordable space in a central town location. RM

The meeting room has been a valuable space for my new and growing business. You simply cannot underestimate the benefits a peaceful space on your productivity levels. Henry is understandable and manages the meeting room well with booking an ease. It's an affordable space in a fantastic location too. AK

Just hired an office here, and could not be happier. Clean, bright, quiet - super kind owner and great location. HW

Clean smart meeting room in central location at very reasonable rates. Great coffee there too! JO

Excellent space. AB

We use the meeting space at Rowe House on a regular basis; we also have a fixed office in Rowe House. It's a fantastic location, right in the centre of town, with brilliant rates. Couldn't recommend highly enough. CE

Need accommodation?
If you need accommodation while you are in Saffron Walden, we recommend the following self-contained property:
Coach House, Saffron Walden
About Henry Rowe
Henry Rowe has over 35 years experience in the Saffron Walden property market and offers a range of property related services. If you are considering moving into the area and need advice on the type of house stock available; an overview of prices; assistance with locating the right property; help with the negotiation; or advice on buy-to-let or development opportunituities, please contact Henry for a friendly chat and no-obligation estimate of costs.